Taxi from Coventry to Northampton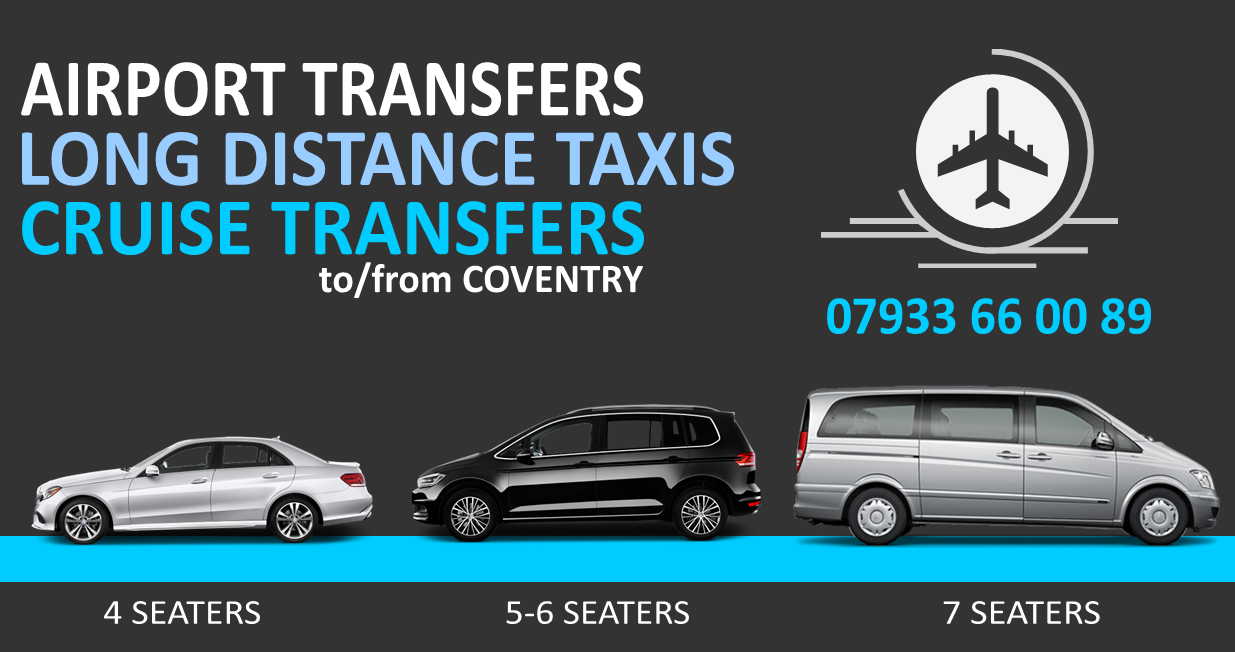 Taxi from Coventry to Northampton
Getting a Taxi from Coventry to Northampton In a 6 or 7 seater Taxi cab can be hard work if you require luggage space & 7 seats for your family and also child seats. Quick taxi quotes from Coventry is the easiest option for the best fare prices that can give you a clear indication on what the taxi cost will be if you choose to Book a return airport transfer. So getting online airport taxi prices have to be sourced at the earliest stage prior to your departure.
Our Services for Taxi from Coventry to Northampton are by far the lowest in price compared to our rivals, Our drivers are full passed and vetted and reliable. Our airport taxi drivers are always on time to pick you up from any area of Coventry in one of of our taxis to Heathrow airport or to Gatwick airport.
Service we offer
Bookings are in advanc
Book from all CV postcodes in coventry.
Always on time.
Pay with cash, or Paypal.
Cheaper than black cab taxis.
Sat Nav equipped Vehicles
6 & 7 Seater vehicles
Emergency Courier service
Airport transfers taxi service for all pickups & drop offs from Coventry, CV1,CV2,CV3,CV4,CV5,CV6,CV7,CV8, to and from all UK airports. airport transfers coventry are a leading Airport transfers provider to thousands of customers who live in Coventry, Kenilworth, Warwick, Leamington spa, Stratford upon avon, Meridan, Balsall common. Our service of reliability is by far the best in the warwickshire area. Aswell as value for money. We have thousands of customers that fly in to airports all over the UK. Such as Heathrow, Birmingham, Luton, Manchester, Gatwick, East midlands, Stansted. Our taxi quote form on our homepage makes it easy to book a coventry taxi online to the airport. We are also providers for long distance taxi journeys.
WHY CHOOSE US?
Over 3,644 Airport transfers completed in the past year
* Fixed Long distance taxi & airport transfer Prices – no hidden extras
* Meet and Greet service at the Airport arrivals
* Monitor all incoming flights
* 24/7 customer support
* Knowledgeable drivers and friendly staff
* All major credit and debit cards accepted
CHEAP AIRPORT TAXIS
Address: 3a, 6-10 Argyll St, Coventry CV2 4FL
Phone: 07933 660089